Enjoying the remnants of Mammoth's Record-Setting Winter
It's a special treat to ski in July (in North America), and not everyone gets to experience it. But Tess Weaver and her son Hagen got the chance to hit the snow at Mammoth Mountain, after record-setting snowfall extended the season well into summer. These Ikon Pass holders shared their visit with us, and all the highlights of winter and summer adventures combined into one memorable trip. Read on to hear their story and get inspired.
There was nothing spring-y about Spring Break 2023 at Mammoth Mountain. During a record-breaking winter, a series of monster March storms dumped feet upon feet of snow on the already buried town and ski resort, and an avalanche covered Highway 395 in between Mammoth Lakes and Reno. During one 24-hour period, almost 21 inches fell. So, we rescheduled our mom-son Sierra ski trip to a later date—much later, in fact.
Summer Skiing at Mammoth
On July 1st, we clicked into our skis for the first time since our home mountain in Colorado closed in April and loaded Mammoth's Chair 1. As we ascended the behemoth ski area, still plastered in white, nine-year-old Hagen told a chairlift mate: "This is more snow than we had all winter!" The snowpack revealed itself in all its glory, reminding us of the storied winter of 2022-'23. The Sierra storms began in early November and rarely let up, depositing more than 700 inches (and more than 900 inches at the top of the mountain) and breaking the storm magnet's previous record of 668 inches set more than a decade ago.
As we stood at Mammoth's 11,053-foot summit in t-shirts, surrounded by skiers and snowboarders in bikinis, Hawaiian shirts, and shorts, it was hard to imagine the howling winds, heavy snow and cold temps that locals endured to make this summer ski season possible.
Tackling Some Warm-Weather Turns
After admiring the granite domes of Yosemite's Tuolumne Meadows, the jagged Minarets and the picturesque peaks of Mt Ritter and Banner Peak, we dropped into "Climax," a steep face under the Upper Gondola. Despite temps in the 50's and 60's and bluebird conditions, the snow held up beautifully—the steeps and bumps were soft and forgiving, and the groomers were perfectly carveable—slushy, but never sticky. After a few laps on Chair 23, where we skied a perfectly pitched, sustained fall-line between cool rock features (one boasting a permanent Hulk figurine), we realized why so many skiers and snowboarders had showed up for early-morning turns (the mountain was open 7:30 a.m. to 1 p.m.)—this wasn't summer skiing for the novelty of it; this was high-quality skiing in July on world-class terrain.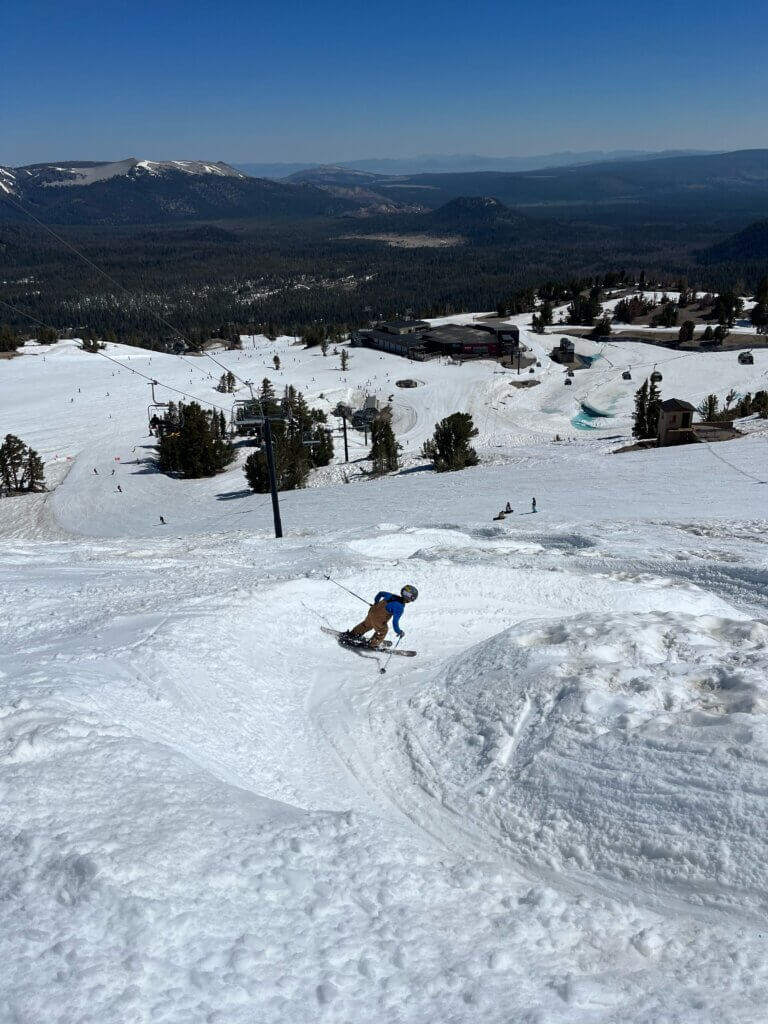 No summer ski day on Mammoth is complete without sliding down a "wiggle"—a snake-like trench formed by skiers and snowboarders making the same turns over and over to form a track that resembles a twisty waterslide. They're everywhere on the mountain, but the longest wiggle with the deepest track loomed looker's right off Chair 23. It bucked me out immediately, but Hagen hung on and collapsed at the end from the leg-burning fun. After a few laps in the Forest Trail terrain park, with jumps and jibs perfect for progressing, we took the shuttle back to The Village to swap our skis for mountain bikes.
Hitting Mammoth's Dirt Trails
With the upper bike park still covered in snow, the early-season Mammoth Bike Park consisted of three runs that conveniently finished near our condo in The Village. All we had to do was load our bikes onto a bike trailer and hop into a shuttle for a ride to the start of the trails. No pedaling necessary—Hagen was in heaven. On "Shotgun," I rolled over features, while Hagen caught air, and we both enjoyed the beginner friendly "Downtown," which offered the longest descent with swooping berms we could take with speed. Every trail weaved around huge trees, flowering manzanita, and open stretches with views of snow-covered peaks.
Summer Fun at Mammoth
We continued this program for three more days, adding a couple hours in the water each day—one time in a bubbling hot spring, twice in the pool, once in a scenic alpine lake with a shore of smooth rocks to jump off, and one hut-tub session under the fireworks. At the kid-focused Adventure Center, Hagen tried the zipline and the bungee tramp, followed by a massive hot pretzel with cheese dip at the famous Yodler restaurant nearby. On the Sunday before Independence Day, we rode the gondola to McCoy Station at sunset to watch a spectacular fireworks show from the summit that turned the snow every color of the spectrum. Even with some of the longest days of the year, there wasn't enough time to fit in all the fun that Mammoth offers in July.
You don't need to be ski-obsessed like Hagen to enjoy summer skiing. With enough snow and the right conditions, it combines all the great parts of skiing without some that detract—cold fingers and toes, uncomfortable chairlift rides and the rush to find fresh tracks. Summer skiing is stripped down—literally. Without jackets, gloves, buffs, or base layers, skiing feels pretty minimal. What we noticed most, was the energy shift. Summer skiers tend to have low expectations, low stress levels and low inhibitions. The atmosphere and vibe are reason enough to experience North American summer skiing, but if you can score summer turns after a huge winter like Mammoth experienced, you might just find the best skiing of your season.