This season, crank up the laps and turn on your mobile app, because Ikon Pass is donating to Share Winter Foundation for vertical feet skied in the 23/24 season. That means that the more the Ikon Pass community rides, the more we donate. So, let's crew up, gear up, and get after it this season–with every lap helping to make the mountains a more inclusive place for all.
HOW YOU CAN DELIVER THE GOODS
It's as simple as 1, 2, 3.
Download the Ikon Pass mobile app
Head to the mountains, turn on the app, and ensure tracking is enabled
Let it rip
We'll take it from there. While your app tracks your vertical feet skied throughout the season, we'll be compiling those numbers into one Matterhorn-sized donation, helping to ensure that the mountains are an accessible landscape for all.

THE MOUNTAINS,
WHERE EVERYONE GETS THE GOOD STUFF
ABOUT SHARE WINTER FOUNDATION
Defined by a crystal clear and critical mission, the Share Winter Foundation aims to enrich the lives of youth through winter sports. To achieve this, the Foundation works closely with carefully selected grantees to build efficient, effective, sustainable winter sports programs and pathways to ongoing winter sports participation. Through these partnerships, Share Winter strives to make winter sports accessible to a broader, more diverse community while fueling the next generation of winter sports participants and enthusiasts.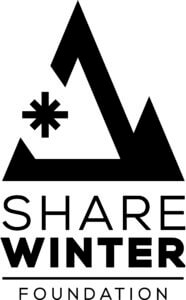 Ikon Pass will count the number of vertical feet skied by the Ikon Pass community while using the Ikon Pass app with tracking enabled between November 17, 2023 and May 12, 2024 and make a donation for every vertical foot skied, up to a total maximum donation of $25,000, to the Share Winter Foundation. 
PLUS DE DESCENTES = PLUS DE DONS
Cette saison, dévalez les pistes comme jamais et activez votre application mobile, car Ikon Pass fera un don à la Share Winter Foundation selon le nombre de mètres verticaux dévalés au cours de la saison 2023-2024. Ainsi, plus la communauté Ikon Pass descendra, plus nous donnerons. Alors, unissons nos efforts et préparons-nous pour la saison qui est à nos portes puisque chaque descente contribuera à faire de la montagne un endroit plus inclusif pour tout le monde.
COMMENT POUVEZ-VOUS NOUS AIDER?
En suivant ces trois étapes simples :
Téléchargez l'application mobile Ikon Pass.
Mettez le cap vers les montagnes, ouvrez l'application et assurez-vous que la fonction de suivi est activée.
Dévalez une tonne de pistes.
Nous nous occuperons du reste. Tandis que votre application suivra le nombre de mètres verticaux que vous dévalerez tout au long de la saison, nous compilerons ces chiffres pour faire un énorme et unique don qui contribuera à garantir que les montagnes deviennent des environnements accessibles à tout le monde.
LES MONTAGNES, LÀ OÙ TOUT LE MONDE PEUT S'AMUSER
À PROPOS DE LA SHARE WINTER FOUNDATION
Guidée par une mission claire et essentielle, la Share Winter Foundation vise à enrichir la vie des jeunes grâce aux sports d'hiver. Pour y parvenir, elle travaille en étroite collaboration avec des bénéficiaires soigneusement sélectionné(e)s afin de créer des programmes efficaces et durables, ainsi que des voies menant à une participation continue aux sports d'hiver. Dans le cadre de ces partenariats, la Share Winter s'efforce de rendre les sports d'hiver accessibles à une communauté plus large et plus diversifiée tout en motivant la prochaine génération d'adeptes de sports d'hiver.
Ikon Pass calculera le nombre de mètres verticaux dévalés par les membres de la communauté Ikon Pass qui auront activé la fonction de suivi sur leur application Ikon Pass entre le 17 novembre 2023 et le 12 mai 2024. L'entreprise fera ensuite un don à la Share Winter Foundation pour chaque mètre vertical dévalé, jusqu'à concurrence de 25 000 $ au total.