Across each snowbound mountain destination on the Ikon Pass, there's always more than meets the eye going on behind the scenes. Mountain wide – from before the sun rises until well after it sets – these activities and actions are rarely seen by guests. Yet, they are experienced day-in-and day out, constantly making the on-mountain experience something special and unique.
Beyond the snow, it takes motivated, passionate people to move mountains. These are the Ikon Pass employees who have demonstrated what it takes to keep things running, stepping up in hard times, and forever showing love for their mountain communities.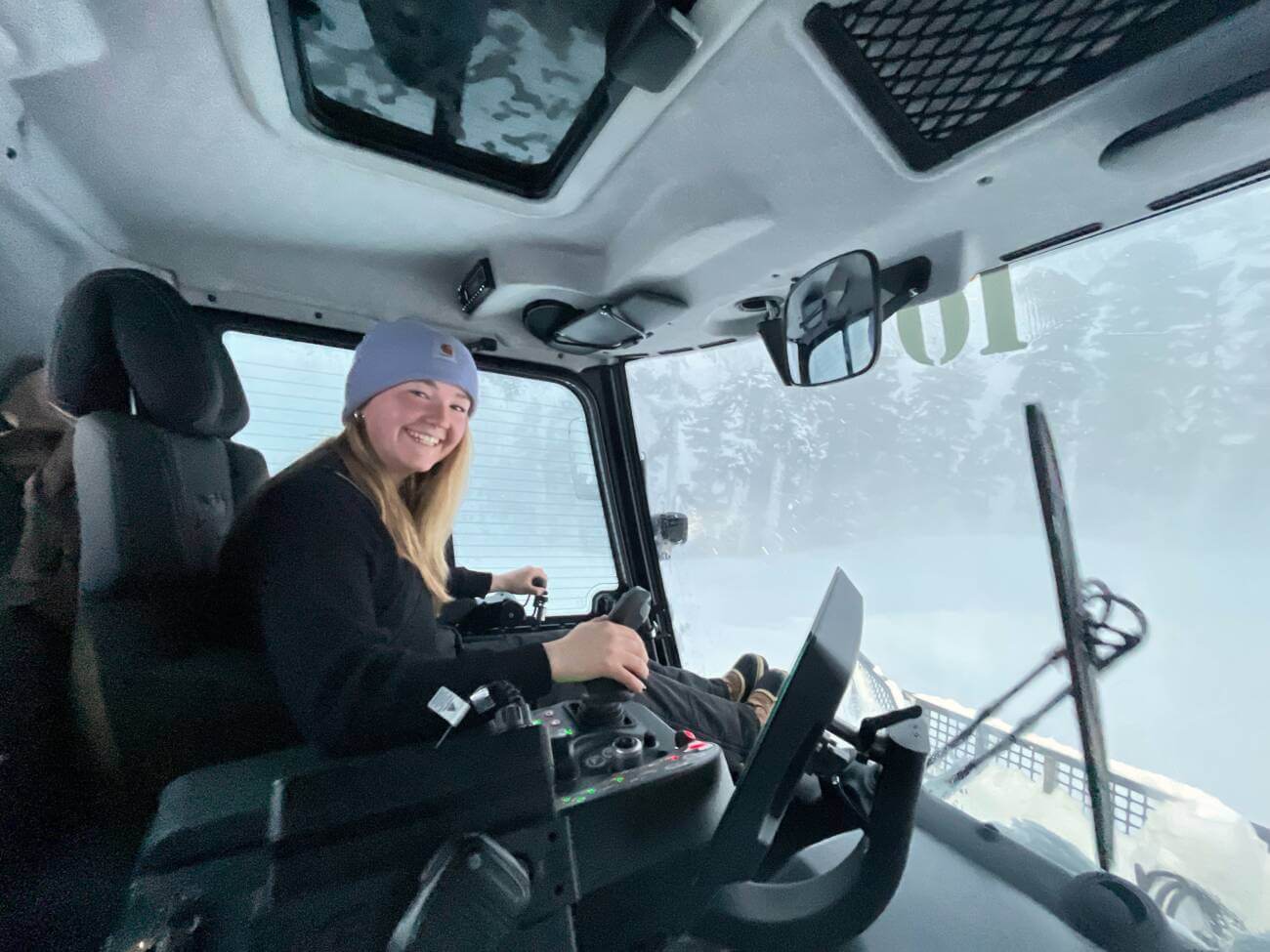 As guests hang up their equipment at the end of a long day on the slopes, the work is just beginning for Palisade Tahoe's Groomer, Sidney. She'll spend the next few hours – and potentially the whole night – maneuvering around the mountain, pushing snow onto runs to create ideal conditions for the next day's guests. Though she's only been working with Alpine Groomers for the past two years, Sidney certainly had her work cut out for her this winter, as record-breaking snow led to a ski season that lasted until early July. With a total of six years in the industry, Sidney is a trailblazer for women working in mountain operations.
Carving Her Path to Lake Tahoe
Sidney's road to becoming a groomer came from a combination of curiosity and opportunity. While working as a Lift Operator in Jackson, Wyoming, she couldn't help but wonder what it would be like to be in the driver's seat of the grooming machines she saw each day on the mountain. In looking to expand her skill set, she took a trail crew job with the Nevada Conservation Corps (NCC) and relocated to Reno, Nevada. While in Reno, Sidney fell in love with the Sierra mountains and decided to make Tahoe her permanent home.
As luck would have it, there was an opportunity with Alpine Grooming for a position at Palisades Tahoe, and Sidney jumped at the chance to expand her professional experience on the mountain. Her first position was working the graveyard shift where she dove headfirst into snowcat ride-alongs with experienced groomers. During her training, she learned how to drive the machine herself and off-the-clock she worked to become a better operator by improving her hand-eye coordination through video games. Every time she gets into the snowcat, Sidney has found that it's an opportunity to learn something new.
"It's such a fun job and so many people appreciate it that you wouldn't even realize! – Sidney
A Day in the Life
With two seasons asa Groomer now under her belt, Sidney's average day during the winter season is a perfect blend of fun and hard work. She spends her day skiing before the real work starts that evening when it's time to groom the mountain. Her tasks depend on the ever-changing conditions, from navigating stormy nights with an unpredictable snowpack to tackling the challenges of springtime slush. Regardless of the weather, the best part of her shift is blasting music and singing her heart out while grooming the slopes alongside sunrise and sunset views of the Sierra's.
In the summer, Sidney's role evolves to joining the trail crew, where she works with heavy machinery. This seasonal crossover has even taught her valuable skills that have come in handy during her winter grooming in the snowcat. As the season transitions to fall, she also helps with snowmaking to bridge the gap between seasons.
Representing Women in the Industry
While the fun of grooming and operating the big machines is unmatched, Sidney admits that comparison within this male-dominated industry can be tough especially when working with more experienced groomers. Fortunately, her team has been supportive and encouraging as they've helped her grow and excel in her craft.
As a woman in the industry, she relishes the opportunity to represent and inspire other women. When she meets new girls and tells them about her role as a groomer, the excitement and admiration she receives make her job even more rewarding. Sidney's advice to aspiring ski industry enthusiasts is simple but powerful: "be persistent!" Embrace the challenges, stay determined, and don't let obstacles deter you from pursuing your dreams. The grooming gig may get hectic, but with the overwhelming appreciation from fellow skiers and snowboarders, it can be one of the most rewarding and fun jobs on the mountain.