Across each snowbound mountain destination on the Ikon pass, there's always more than meets the eye going on behind the scenes. Mountain wide – from before the sun rises until well after it sets – these activities and actions are rarely seen by guests. Yet, they are experienced day-in-and day out, constantly making the on-mountain experience something special and unique.
Beyond the snow, it takes motivated, passionate people to move mountains. These are the Ikon Pass employees who are at the heart of what it takes to keep things running, stepping up in hard times, and forever showing love for their mountain communities.
Kevin Sprecher & Grayson Neff, Terrain Park – Woodward Eldora

The crew has been at it all year, filling out those heavy bags of tricks while dreaming of Fakies, Blunt Slides, and bonking off everything in sight. Since November, the park has been firing and the stoke has been high. Now, with spring's sun-drenched slopes underfoot, it's time to look back and reflect on a season spent slaying the park. It's also a moment to pause, take a beat, and throw a hefty high five at the dudes who have kept it all moving at this Front Range playground, Kevin Sprecher & Grayson Neff.  
"My favorite thing about Eldora is its sense of community. I feel like I know everyone, and this is something you do not get at other resorts."

Kevin
The mountain-minded community that makes these mountainous playgrounds is a special one. And The mountain-minded community that makes these mountainous playgrounds is a special one. And Eldora is uniquely positioned to embrace this due to its accessible nature and smallish, rough-and-tumble meets charming vibe. On any given Sunday, Wednesday – and every day in between – Eldora welcomes passionate pass holders who love to play, on and off the park. Kevin and Grayson are embedded in this community, constantly championing its park progression through their work with Woodward, one of the country's preeminent names in park development.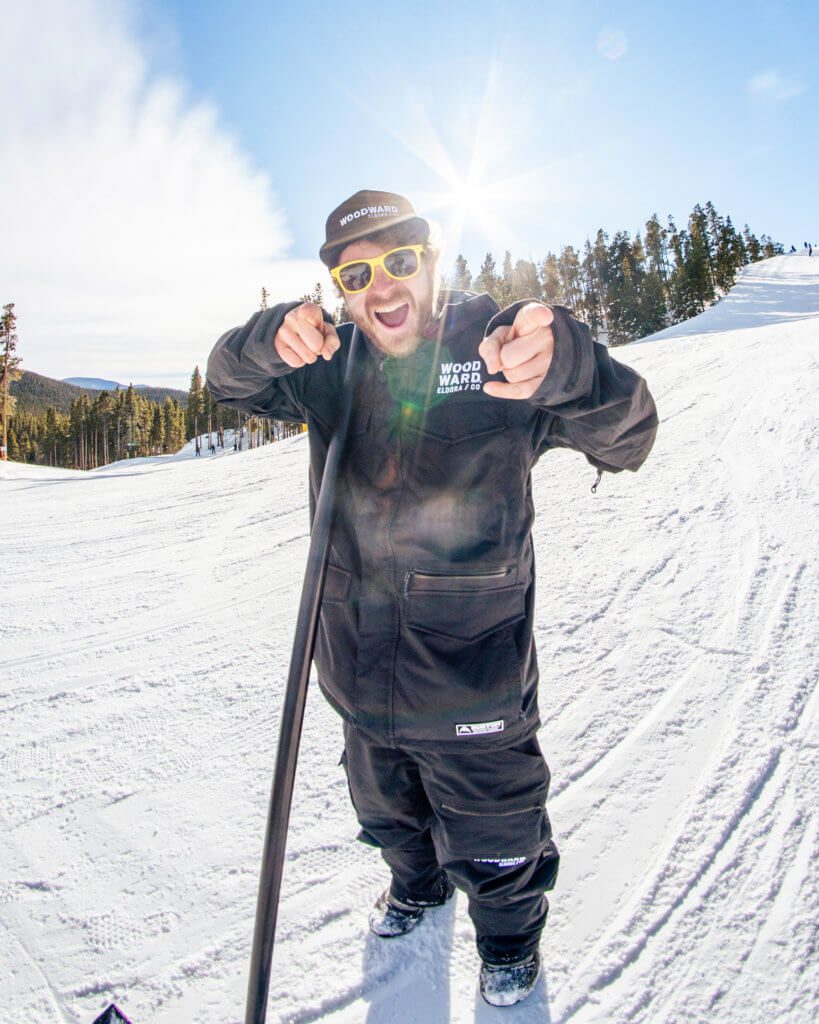 "One of the ways my job is unique is that I get to watch people enjoy the product that we create. Being able to see the smile on someone's face as they hit their first feature ever or stomp the trick they have been working on all season reinvigorates my drive on a daily basis"

Kevin
"I love my job because it gets me active and outside, creating something that many people genuinely enjoy. It really shows in so many aspects from daily praise to the artistic video edits I get to see using the terrain I helped create."

Grayson
That joy drives the Eldora Woodward team through the early mornings, cold temps, and late nights. A true 24-hour job cycle is required to keep kickers kicking and rails hitting. From concept to design to feature, the process of building out, honing, and maintaining a terrain park can be a daunting one, but it's one that the crew welcomes and owns whole-heartedly. "I like the mountains because they are ever-changing. Every day the conditions are different, and it takes knowledge and respect to be able to master them." – Kevin
Terrain parks have long been landscapes of creativity. Every new trick unlocked was first born out of imagination. This idea is inherent to the idea of progression – creativity keeps things moving forward. This particular concept is one of the things that Kevin loves most about his job. Mirroring the ingenuity that happens in the terrain parks, Kevin finds a unique artistic outlet in how features are built and lines are formed. The opportunity to use snow and steel to sculpt a mountain's side continually keeps Kevin coming back for more, pushing and enhancing the idea of what a park can be.
Beyond the creativity, Grayson credits the teamwork for Eldora's park success. With mutual respect and a shared love of the sport, it really is the crew that keeps the park firing. Comradery mixed with passion creates a park experience that keeps people coming back.
"Being the Terrain Park Supervisor is an incredibly unique position in many ways. I run one of the smallest departments on the mountain of a tight-knit crew of park riders and builders that all share one passion. Building and maintaining the most exciting part of a ski mountain.

Stay smart in parks out there and keep pushing the limits of what's possible!"

Grayson