Break away from your daily schedule, from the stress, and from the chaos of your city or school. Escape to the mountains this spring, where the fresh air and striking skylines will reset your love for the outdoors while offering adventures of all scales.
Most Ikon Pass destinations offer Spring Break specials on lodging, lessons, and food & beverage. This year, trade sand for snow and get stoked for spring experiences on the slopes with your Ikon Pass.
Spring Break with the Family
Many Ikon Pass destinations offer activities for the whole family. Find a spot that boasts fun-filled beginner terrain and unique experiences that will leave your family with lasting memories. Check out ski school programs, day cares, family friendly restaurants, a wide variety of activities, and discounts on lodging to fit the whole gang.
Sleep Near the Slopes
Find Spring Break specials at in-village lodging, with easy access to get stoked. Palisades Tahoe formerly Squaw Valley Alpine Meadows, Steamboat, Stratton, Solitude Mountain Resort, Jackson Hole Mountain Resort, and Snowshoe are all known for their idyllic villages with multiple options for hotel rooms or family condos within walking distance of the lifts.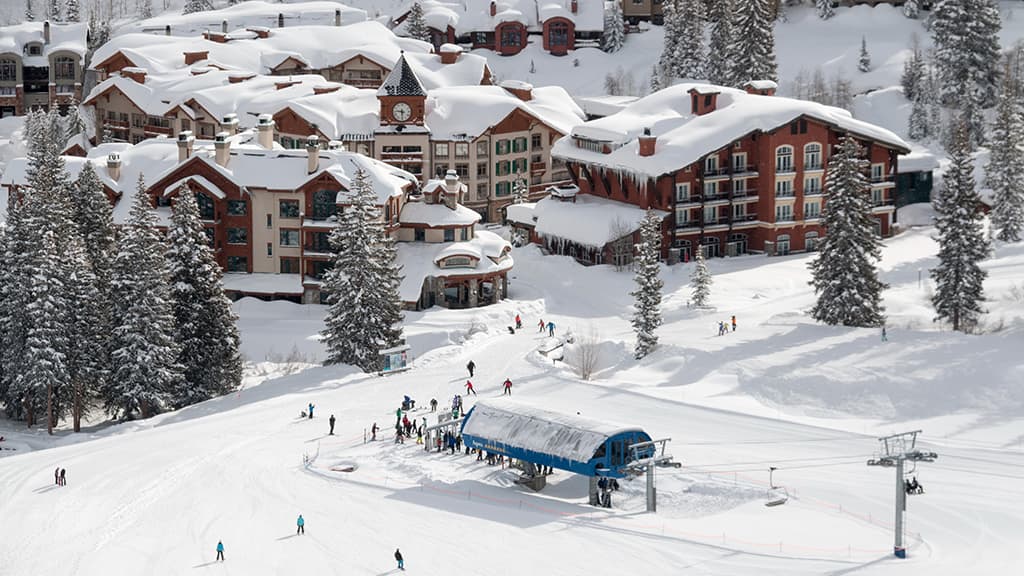 Let the kids have fun without you
Stratton's Kids Night Out (February 16) or Sugarbush's Pizza & Movie Night (March 23) give parents a chance to go out alone and leave the kids to choose crafts or movies. Blue Mountain also hosts Friday Night Lights Rail Jams for kids and teens to show off their skills.
Plan events with the whole family
Join mascots Eddy & Betty for dinner and a magic show at Sunday River (February 23), spark some friendly competition at Tremblant's Crazy Games, or dust off your dance moves at Saturday Night Fever (March 2-10). Enjoy ice carving, scavenger hunts, and fireworks at Blue's Family Day Weekend (Feb 16), and get your faces painted at the WinterWonderGrass Kids Zone at Olympic Valley (March 29-31).
Enjoy the snow together
Start a cannonball competition into Snowshoe's mountainside Split Rock Pool or Blue Mountain's Plunge! Aquatic Center. Race around the Woodview Mountaintop Skate Rink at Blue Mountain, or down the Coca Cola Tubing Hill at Winter Park and Snowshoe. Rent mini snowmobiles at Olympic Valley or ride the longest mountain coaster in North America, Steamboat's Outlaw Coaster.
SPRING BREAK WITH A GROUP
Expand your crew by offering up a few Friends & Family 25% off discounts to your buddies, because some powder days are better with friends. Consider easy coordination by visiting a mountain close to an airport, or within driving distance of a city, and pick a destination with varied terrain for the whole group.
Check out mountain nightlife, bustling après scenes, and unique cultural experiences. Many Ikon Pass destinations also offer Spring Break specials—from discounted beer buckets to affordable lodging.
Fly in easily
Many Ikon Pass destinations are less than an hour from a major airport, ensuring you make the most of your break on the mountain. Bonus: When visiting Winter Park in Colorado, you can take the Ski Train directly to the slopes; when visiting Utah destinations, you can take the UTA Ski Bus between Salt Lake City and the mountains (after activating your free benefits at Solitude).
Find your beach
Kick back and relax at a mountain "beach" filled with cold drinks, lounge chairs, strong sunshine, and all of your friends. Join the party at Mammoth Mountain's Beach Bar; experience an infamous Mary Jane tailgate at Winter Park; or find out why Palisades Tahoe is known as the Spring Skiing Capital.
Celebrate the day with a cold one
Toast to lasting memories and an unforgettable break with friends. Pop champagne at Aspen Highland's Cloud 9 Alpine Bistro; ask for the shotski at Steamboat Resort's Timber + Torch; or take the gondola up to Winter Park's Sunspot for after-hours mountaintop après.
Schedule in a special event
Pack your finest beads and bright colors for Steamboat Mardi Gras (March 2); enter the costume contest at Solitude's Nordic Spring Fling (March 9); or dream of going pro at The Vermont Open at Stratton (March 8-10). Sit front row to watch your favorite artist play at KROQ Storms Bear Mountain (February 23), Jackson Hole Rendezvous Festival (March 15-16), WinterWonderGrass at Olympic Valley (March 29-31), or Big Sky Big Grass (April 11-14).
Couples Spring Break
Sometimes all you really need is a true break from it all. A chance to spend some quality time with your favorite person. Let the mountains rejuvenate you through relaxing activities, healthy food, fresh air, and the comfort of lodging that feels like your own home.
Make time to try something new
Show up to on-mountain "snowga" yoga at Winter Park; explore more than 12 miles of Nordic ski and snowshoe trails at Solitude Mountain Resort; share a dog sled ride at Jackson Hole, or dine under the stars after snowshoeing up to Aspen Buttermilk's Cliffhouse.
Treat Yourselves
Get pampered at The Cliff Spa at Snowbird; indulge at Deer Valley's Seafood Buffet; or explore two different hot springs within 20 minutes of Steamboat Resort.
Learn from a Local
When traveling in pairs or small groups, you can navigate a new destination easier. Many mountains offer local guides to show you the secret stashes that larger groups may not access. For example, hire an Adventure Guide at Winter Park or even ski with a champion at Deer Valley.